Limited Offer From PERMATA HIJAU SUITES
---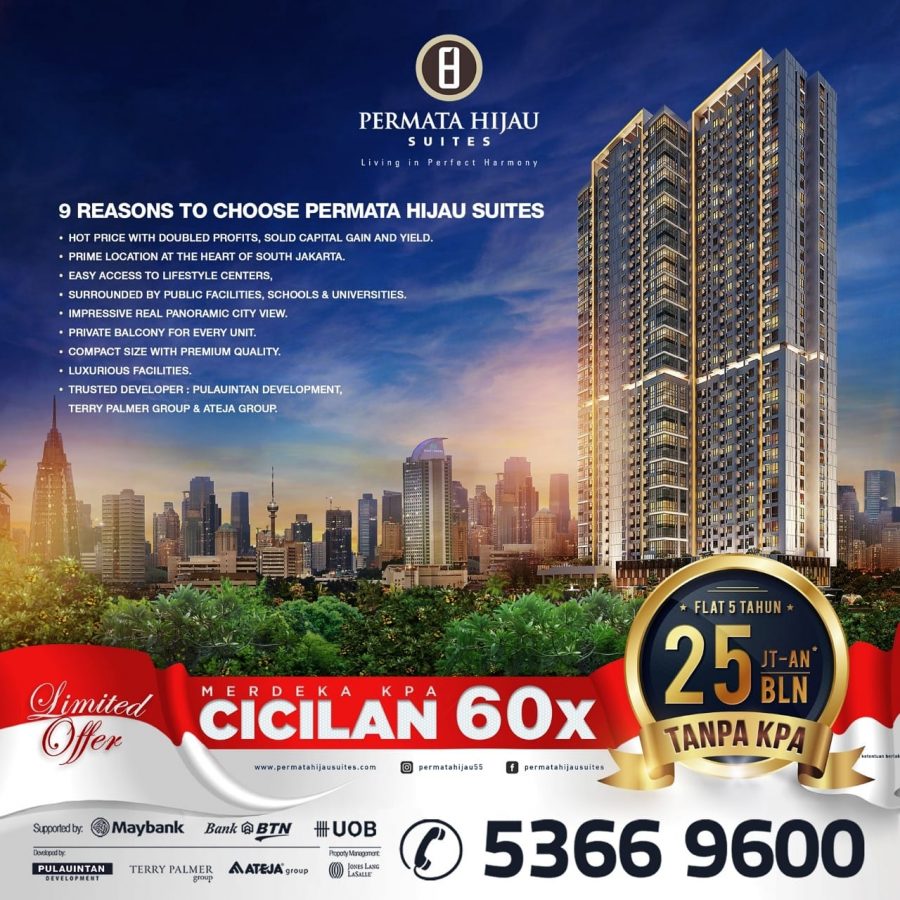 _Limited Offer dari_
PERMATA HIJAU SUITES
Miliki sekarang juga !
Kini semakin mudah dengan Program *MERDEKA KPA*
_CICIL 60x (Flat 5Th) TANPA KPA_
*TYPE 1BR*
*SMG : 40,86 m2*
Tower Ebony Rp. 25 Juta-an/Bln
Tower Ivory Rp. 28 Juta-an/Bln
*TYPE 2BR*
*SMG : 60.29 m2*
Tower Ebony Rp. 36 Juta-an/Bln
Tower Ivory Rp. 40 Juta-an/Bln
*TYPE 2BR SPECIAL*
*SMG : 69,39 m2*
Tower Ebony Rp. 41 – 42 Jt-an/Bln
*TYPE 3BR*
*SMG : 91,40 m2*
Tower Ebony Rp. 54 Juta-an/Bln
Tower Ivory Rp. 64 Juta-an/Bln
•••••••••••••••••••••••••••••••••••
TUNDA INVESTASI Anda sebelum Site Visit ke *PERMATA HIJAU Suites*.
Apartment Exclusive – JakSel
Private BALCONY
Lantai MARMER
AC terpasang di setiap Ruang
Facilitas Bintang 5
Parking Area 4 Basement+Podium
HandOver start *Sept 2019*
Developer : PulauIntan Development, Terry Palmer Group & Ateja Group
Property Management : JLL
••••••••••••••••••••••••••••••••••
Harga ter-BIJAK di Jakarta Selatan
*Full MARMER & Full AC*
1BR = 1M-an*
2BR = 1,5M-an*
3BR = 2,3M-an*
COMBO 1+2 = 2,6M-an*
COMBO 2+2 = 3M-an*
COMBO 3+2 = 4,5-an*
(*: Cash Bertahap 30x excl PPN)
Saat ini telah terbentuk komunitas penghuni kalangan expat dengan kebangsaan asing ; tercatat di antaranya berasal dari *Perancis, Italia, Australia, Inggris, Spanyol dan Jepang.*
Sementara itu, juga telah tegabung beberapa WNI yang saat ini tercatat sebagai Expat di negara-negara tetangga seperti ; *Malaysia, Vietnam, Philipine, Jepang, Singapore, Jerman, Belanda, Dubai & Abu Dabhi*
Hari ini positioning PERMATA HIJAU SUITES semakin mantab dengan julukan baru : *"WHERE THE YOUNG EXPAT LIVES"*
Kami terus berupaya meningkatkan kepuasan Pelanggan ; perhatian kami tidak berhenti sampai pada Kualitas yang kami tawarkan saja, namun kami senantiasa berupaya menambah kelengkapan FASILITAS untuk menjawab kebutuhan Anda.
Fasilitas terbaru ; DAYCARE managed by Playfield & ETON International Pre School
Pastikan utk selalu mendapatkan Unit TERBAIK, Harga TERBIJAK & Angsuran SUPER RINGAN dari PERMATA HIJAU Suites dengan Fasiltas Premium (Grand Lobby, Spa, Sauna, Jacuzzi, Club Lounge, Private Dinning Hall, Gym & Fitness Center, Library, Infinity Pool, Aquatic Gym Pool, Yoga & Pilates Area, Alfresco, Jogging Tracks, Daycare, Children Playground, 3on3 Basket Ball, Outdoor Seating Area & BBQ Garden dgn impressive view.)
*BEST Investment with IMPRESSIVE City-view MANHATTAN Look Alike*
Dapatkan dg program terbatas *SEMUA TYPE (1BR/2BR/3BR) CICILAN SAMA Rp. 25Jt (incl PPN) /bulan**
_Kalo bisa beli besar (3BR) kenapa harus terpaksa beli yg kecil (1BR) ??? _
*CICILAN BUKAN MASALAH LAGI di PHS !*
••••••••••••••••••••••••••
*9 Alasan Memilih
PERMATA HIJAU Suites*
1. HOT PRICE !
Lokasi JAKARTA SELATAN,
Harga JAKARTA BARAT !
Hanya *Rp. 25 juta-an/m2*
Mulai *Rp. 1 M-an*
Unit Sangat Terbatas !
2. CAPTIVE CAPITAL GAIN dari harga property seputar lokasi yang telah mencapai minimum Rp. 30-50 juta-an/m2
3. PRIME LOCATION !
Tepat berdampingan dengan *Perumahan Mewah PERMATA HIJAU* ;
Radius 2,5km dari *Senayan City, Plaza Senayan & Jalan Jendral Sudirman*
4. EASY ACCESS dari 8 Penjuru MATA ANGIN
Terletak di segitiga emas Pondok Indah, Sudirman & Puri Indah.
5. IMPRESSIVE REAL PANORAMIC CITY VIEW Nikmati panoramic city view Jalan Jendral Sudirman dari setiap unit Anda.
6. Setiap UNIT punya BALCONY
7. COMPACT SIZE with PREMIUM QUALITY !
Lantai MARMER dan Unit AC TERPASANG di setiap Ruang.
8. PREMIUM FACILITIES :
Grand Lobby, Club Lounge, Spa, Sauna, Jacuzzi, Gym & Fitness Centre, Aquatic Gym Pool, Aquatic Reflexiology Path, Yoga & Pilates Area, Infinity Pool, Ladies Pool, Kiddies Pool, Exercise Pool, 3 on 3 Basket Ball Court, Private Dinning Hall, Library, Alfresco, Plaza & BBQ Area, dll
Parkir ; 4 Basement dan 4 Lantai Podium Parking
9. DEVELOPER BERPENGALAMAN & TERPERCAYA :
PULAUINTAN Development, TERRY PALMER Group & ATEJA Group